We are a full service Pet Resort offering dog and cat boarding, full service grooming, self service pet wash, and a boutique.

Dog Boarding - $39 per day (each additional dog if they are in the same run - $20)


Our spacious heated and air conditioned kennel has 50 indoor/outdoor runs.

The indoor runs measure 4' by 7', and the out door portion measures 4' by 10'.

Each individual run offers a built in resting bench and a doggy door. Weather permitting they will be able to go in or out as they wish.

We offer many extras from play time to special menu itemsto enhance your pets stay.

Drop off and pick-up available 7 days per week during these hours only:
7:00 a.m. - 12:00 p.m.
2:00 p.m. - 8:00 p.m.

Arrival Day: Regardless of check-in time, you are charged for the day.
Departure Day: If you pick-up in the first set of hours (morning), there is no charge for that day. If you pick-up in the second set of hours (afternoon), you will be charged for the pick up day.

Cat Boarding $25.00 per day (each additional cat if they are in the same condo - $15)
Cats can get the multiple cat discount or the 7 Day or longer not both.
We have beautiful raintree kitty condos for our feline friends!

The kitty condos are 24" wide 24" deep and 36" high with 2 built in resting perches. Our cat room has a window for outside viewing with a perch for lounging, and a climbing gym for excercise and play. We have music and use comfort zone technology to reduce stress.

We also offer extra play times and special menu items to make your cat feel right at home.


Self Serve Pet Wash (starting at $5.00 per wash)
We have 2 individual self service pet wash rooms equipped with Pet Spaw automated tubs.

All natural shampoos, conditioner and a drier are provided in the wash system. You may bring your own towels, special shampoo, and brushes if you like.

The self service pet wash is open 24 hours a day 7 days a week.


Full Service Grooming
Full service grooming is available by appointment or while your pet is boarding.

We are expanding our grooming area and will soon have 3 full time groomers!

We also offer many additional grooming services such as tooth brushing, "pawdicure", nail trims and polishing, ear cleaning, earrings, and coloring.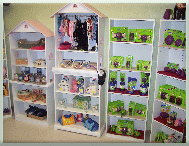 Boutique
We offer a variety of unique products for both your pet or the pet lover in your life.

Including Premier Pet Products Busy Buddy Line of toys, Bowser Beer, Snooks Sweet Potato Treats, Claudia's Canine Cuisine, Paul Mitchell Pet Products, Doggles Glasses and Apparrel, Pet Odor Eliminator Candles and much more.